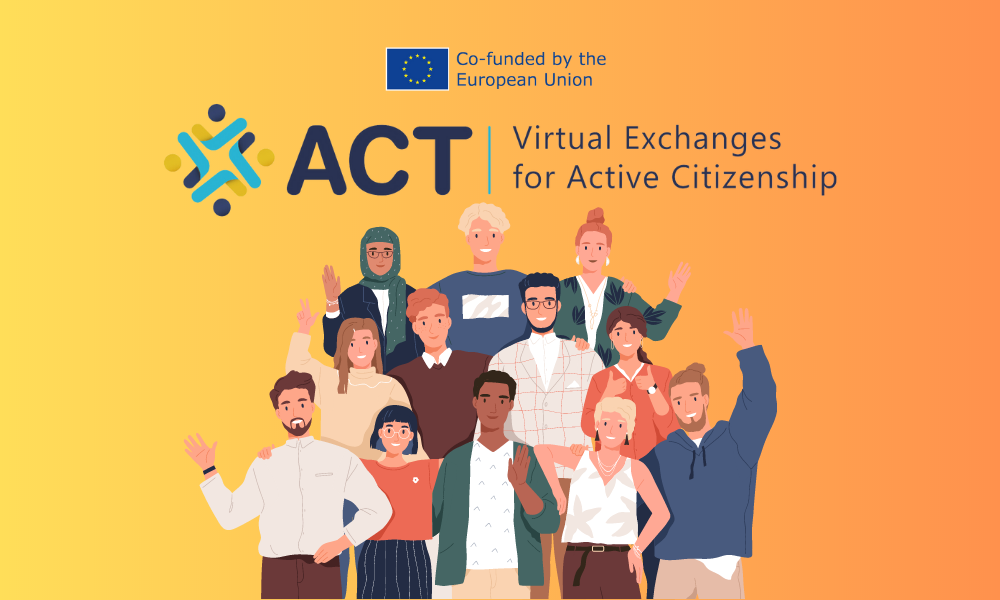 Welcome to the ACT – Virtual Exchanges for Active Citizenship Project!
We are proud to introduce the ACT project, a groundbreaking initiative aimed at fostering values of active citizenship, freedom, tolerance, and non-discrimination among young individuals. Our mission is to connect students and professors/staff from Higher Education Institutions (HEIs) in European and Southern Neighborhood region countries through engaging online formal and non-formal activities.
In today's rapidly evolving world, the importance of developing democratic citizenship principles and promoting active citizenship cannot be overstated. At the heart of the ACT project lies the belief that education, coupled with the power of emerging technologies, can serve as a catalyst for sharing fundamental values and empowering young people to become active citizens in their societies.
Our primary objectives are threefold:
Develop Interactive Online Activities: Through a range of interactive open online activities, both formal and non-formal, our focus is on nurturing elements of active citizenship and intercultural learning. By doing so, we aim to increase access to student mobility opportunities for all participants while ensuring that youth have a voice in democratic life and receive support for social and civic engagement.

Provide Cultural Awareness Training: To promote ethics, equality, and resilience, as well as empathy and sensitivity to differences, we offer comprehensive cultural awareness training. This training serves as a foundation for developing interpersonal and intercultural skills, based on a framework of global competences.

Implement Facilitated Online Activities: Within formal and non-formal education settings, we facilitate online activities with students and youth workers, focusing on topics related to active citizenship, Sustainable Development Goals (SDGs), and EU values of freedom, tolerance, and non-discrimination. These activities enhance mutual understanding between the two regions and enable learners to embrace the values of active citizenship, including a sense of responsibility, active participation in society, environmental protection, resilience, and respect for human rights.
At the ACT project, we believe that creating a network of interconnected and engaged young citizens is crucial for building a brighter and more inclusive future. By connecting HEIs across borders and promoting collaboration, we strive to nurture a generation of socially aware and responsible individuals.
Join us on this transformative journey of discovery, education, and empowerment as we work together to shape a world where active citizenship thrives and bridges are built between diverse cultures and regions.
Let's embark on this remarkable endeavor to drive positive change, leaving a lasting impact on the lives of young people and communities across European and Southern Neighborhood region countries. Together, we can make a difference!