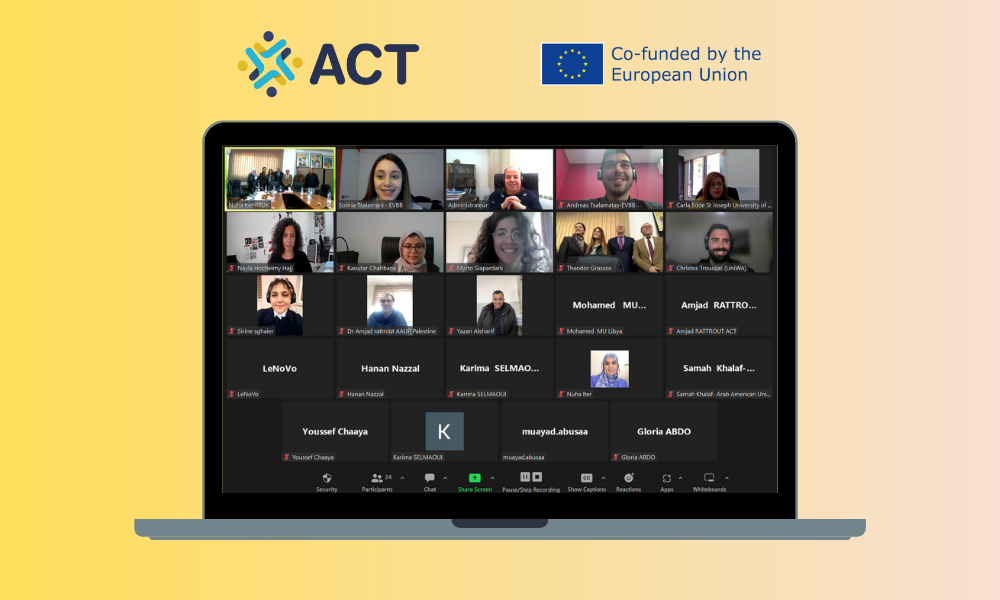 With great enthusiasm and anticipation, the partners from Belgium, Greece, Palestine, Lebanon, Morocco, Libya, and Tunisia came together for a momentous occasion – the official kick-off meeting of the ACT project that took place online on the 20th of February 2023. This milestone event marked the beginning of our collaborative journey towards promoting active citizenship, freedom, tolerance, and non-discrimination among young people in the European and Southern Neighbourhood region countries.
Project Overview and Ambitions: During the kick-off meeting, we engaged in fruitful discussions about the overarching vision of the ACT project. We delved into the core objectives, emphasizing the importance of fostering values of active citizenship and intercultural understanding among the youth. Our mission to connect students and professors/staff from Higher Education Institutions (HEIs) through engaging online formal and non-formal activities served as the foundation of our collective efforts.
Embracing Diversity and Expertise: One of the highlights of the meeting was the diverse expertise and perspectives brought forth by each partner. From Belgium to Tunisia, the wealth of knowledge and experiences enriched our discussions, highlighting the power of collaboration in driving positive change. Together, we are confident that our combined efforts will lead us to achieve our project objectives successfully.
A Glimpse into the Future: The ACT project sets forth a promising path towards meaningful intercultural experiences and fostering active citizenship values among the youth. By utilizing emerging technologies, we are excited to explore innovative ways of learning and interacting, bridging the geographical gaps that once separated us.
Together, we can create a world where diversity is celebrated, and unity flourishes. The ACT project kick-off meeting marks the beginning of our shared commitment to empowering young individuals and fostering a more tolerant, inclusive, and harmonious society.
Let's ignite the spark of positive change and embark on this extraordinary adventure towards a brighter future. We look forward to the remarkable outcomes that await us.
Stay connected, stay inspired, and together, let's make a difference!