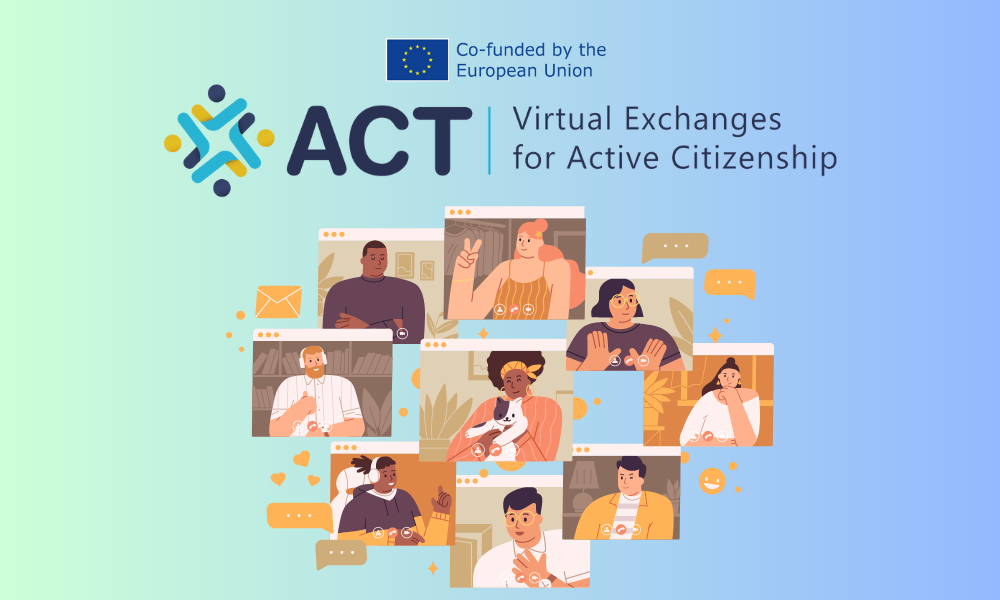 Working Together on Welcome Activities: Embracing Intercultural Connections
Greetings to all participants of the ACT – Virtual Exchanges for Active Citizenship Project! As we embark on this transformative journey, we are thrilled to share with you the exciting Welcome Activities that will mark the beginning of our collaborative efforts. These activities, taking place in the first three months of the project, have been carefully designed to introduce students and staff to the project, foster intercultural experiences, and set the stage for meaningful engagement throughout the project's duration.
Objectives of the Welcome Activities:
Meaningful Intercultural Experiences: We aim to enable learners from European and Southern Mediterranean Neighbourhood countries to come together and experience the richness of diverse cultures in an online environment, within their formal or non-formal education settings.

Understanding Project Aims and Objectives: The Welcome Activities serve as an opportunity to provide learners with a comprehensive understanding of the project's mission, goals, and the exciting range of activities planned.

Exploring New Approaches to Learning: Embracing the power of emerging technologies, the Welcome Activities will introduce learners to innovative ways of learning and interacting that enhance their educational experiences.

Stepping Beyond Comfort Zones: By encouraging learners to work with peers from different backgrounds in terms of language, culture, and personalities, we aim to create a space where participants can learn and grow outside of their comfort zones.
Let's take a closer look at the engaging Welcome Activities planned:
Cultural Virtual Courses and Virtual Tours: This virtual meeting will mark the official kick-off of the project, emphasizing intercultural interactions and non-formal activities. Participants will be welcomed by messages from the Deans of the partner universities and Representatives of Youth Organizations. Virtual tours will offer a glimpse into the campuses, classrooms, and offices of each university and organization, forging a sense of connection among all.
Language Exchange Pair-Work: To foster cross-cultural engagement, participants will be paired from different countries and encouraged to teach each other basic phrases in their mother tongue. These language exchange sessions will be followed by presentations to the larger group, allowing everyone to celebrate their learning.
Virtual Orientation Sessions: As a formal introduction to the project, this session will provide an in-depth overview of its phases, objectives, and expected outcomes. Participants will collaborate in small groups to share their expectations and challenges through an interactive platform. A Q&A open space will ensure all doubts and thoughts are addressed.
Intercultural Show and Tell: During this interactive session, participants from each partner country will have the opportunity to showcase their traditions, such as traditional food, customs, and fun facts about their country. This lively exchange will be followed by an assessment of gained knowledge using Kahoot!, fostering intercultural understanding and interaction.
Virtual Cultural Breakfast and Team Building: Participants will bond over a virtual breakfast sharing videos or photos of their meals, exchanging dietary preferences, and engaging in an open facilitated discussion. The second half of this session will focus on ice-breaking and team-building activities, enhancing the sense of teamwork and intercultural cohesion.
We are thrilled to witness the power of these Welcome Activities in uniting our diverse community and building a solid foundation for active citizenship and intercultural learning. The ACT project is all about breaking barriers, fostering understanding, and empowering our youth to create a better world together. Let's make the most of these exciting beginnings and create lasting impacts throughout our journey!
Stay tuned for more updates and keep the spirit of active citizenship alive in all your endeavors. Together, we can make a difference!